BREWSTER KAHLE
TO SPEAK OCTOBER 9 (in less than 24 hours)
Title: Universal Access to All Human Knowledge
Date: October 9, 2007
Time: 4:00 PM - 6:00 PM
Location: UW Main Campus, Henry Art Gallery, Auditorium 301
Cost: Free
The UW Information School is pleased to welcome Brewster Kahle, the
"internet librarian," to speak about the past, present and future of
digital librarianship during his lecture, "Universal Access to All Human
Knowledge." He will discuss the roles, rights, and responsibilities of
our libraries and archives in providing public access to digital
collections of human knowledge. He sees a near future where the promise
of the digital age-to make all of human knowledge available to students
and scholars all over the world-is a reality.
About Brewster Kahle:
Brewster Kahle is a U.S. internet entrepreneur, activist and digital
librarian. Kahle graduated from Massachusetts IT in 1982 with an SB degree in Computer Science & Engineering.
Kahle was an early member of the Thinking Machines team, where he helped
develop the WAIS system, a precursor to today's internet search engines.
He later started WAIS, Inc. (sold to AOL), and the nonprofit Internet
Archive. He is currently Director of the Internet Archive. He is also a member of
the Board of Directors of the Electronic Frontier Foundation and a key
supporter of the Open Content Alliance. His stated goal is "Universal
Access to all Knowledge."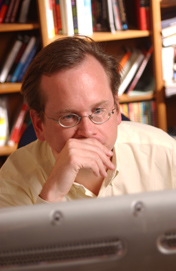 Also, Lawrence Lessig is coming to
University of Washington in November
Title: Is Google (2008) Microsoft (1998)?
Date: Nov . 2, 2007
Time: 7:00 PM
Location: in room 130 of Kane Hall.
Cost: Free
Lawrence Lessig is a Professor of Law at Stanford Law School and founder of the school's Center for Internet and Society. Prior to joining the Stanford faculty, he was the Berkman Professor of Law at Harvard Law School, and a Professor at the University of Chicago. He clerked for Judge Richard Posner on the 7th Circuit Court of Appeals and Justice Antonin Scalia on the United States Supreme Court.
Professor Lessig represented web site operator Eric Eldred in the ground-breaking case Eldred v. Ashcroft, a challenge to the 1998 Sonny Bono Copyright Term Extension Act. He has won numerous awards, including the Free Software Foundation's Freedom Award, and was named one of Scientific American's Top 50 Visionaries, for arguing "against interpretations of copyright that could stifle innovation and discourse online."
Professor Lessig is the author of Free Culture (2004), The Future of Ideas (2001) and Code and Other Laws of Cyberspace (1999). He chairs the Creative Commons project, and serves on the board of the Free Software Foundation, the Electronic Frontier Foundation, the Public Library of Science, and Public Knowledge. He is also a columnist for Wired.
Professor Lessig earned a BA in economics and a BS in management from the University of Pennsylvania, an MA in philosophy from Cambridge, and a JD from Yale. He teaches and writes in the areas of constitutional law, contracts, and the law of cyberspace.
Mark your calendars! More information here:
http://www.grad.washington.edu/lectures/schedule.htm#Lawrence%20Lessig