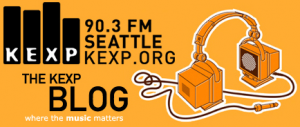 From KEXP's Blog by Chris Estey:
In the "Fair Use Firestorm" throw-down, well, no one was thrown down because the two opposite sides (Jay Rosenthal of the National Music Publishers Association in a black polo shirt and slacks and Brian Rowe of Freedom for I.P. in black leather trench and droog bowler hat) were so vociferously opposed yet elegantly self-contained that it was like watching an immovable object resist pissing on an impenetrable force that had been set on fire.
Check the KEXP blog generally for local music news.