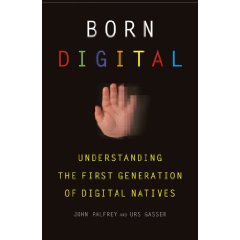 Another good book reading comes to Seattle!
Event Reading and Reception for Born Digital: Understanding The First Generation of Digital Natives
Who: John Palfrey and Urs Gasser
Date: Wednesday, September 17th, 2008
6:00PM, to be followed by a cocktail reception.
Cost: Free and open to the public, no RSVP required.
Location:
Experience Music Project (JBL Theater)
325 5th Avenue North
Seattle, WA 98109
Directions: http://www.empsfm.org/visit/index.asp?categoryID=161
More about the Event: http://cyber.law.harvard.edu/node/4576
More about Born Digital and the Authors: http://www.borndigitalbook.com/