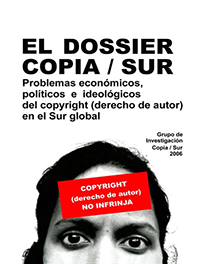 Boletín de prensa 28 abril de 2008
ANUNCIANDO LA EDICIÓN EN ESPAÑOL DEL DOSSIER COPIA/SUR
Problemas económicos, politicos e ideológicos del copyright
(derechos de autor) en el Sur global Investigado y publicado por el Grupo de Investigación Copia Sur Mayo 2006
ISBN: 978-0-9553140-1-8 (de la 1ª edición impresa en inglés)
No restringido por el copyright
We are told that we live in the 'digital revolution' era and that we can communicate across the globe as we never could before. In fact, restrictive copyright laws still act as a serious barrier to sharing and learning from each other. This is particularly true in countries of the South where three quarters of the population live.
PS my favorite image from the site is the instructor mug shot: