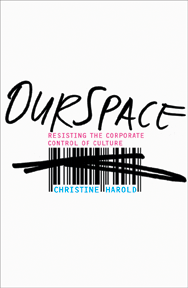 Come out to Elliott Bay Book Company Wednesday or Saturday the 27th to meet Christine Harold. We need you to help resist the corporate control of culture.
In OurSpace, Christine Harold examines the deployment and limitations of "culture jamming" by activists. For Harold, it is a different type of opposition that offers a genuine alternative to corporate consumerism. Exploring the revolutionary Creative Commons movement, copyleft, and open source technology, Harold advocates a more inclusive approach to intellectual property that invites innovation and wider participation in the creative process.
Christine Harold is a professor in the Department of Communications at the University of Washington. Her previous position was assistant professor of speech communication at the University of Georgia.
Book events for OurSpace: Resisting the Corporate Control of Culture by Christine Harold
Book Event
Wednesday, October 3, 2007, 7:30 pm
Talk & Book Signing
Elliott Bay Book Company
101 South Main Street
Seattle, Washington 98104
206-624-6600
Book Event
Saturday, October 27, 2007, 6:30 pm
Talk & Book Signing
Third Place Books
17171 Bothell Way NE
Lake Forest Park, WA 98155
206-366-3316
More information available at:
http://www.upress.umn.edu/Books/H/harold_ourspace.html
PS The publisher has not returned my emails about the what copyright the book is under and why… If the publisher is holding it hostage under a full right reserved license we may need to take action.