My favorite AntiDRM books for children (and possibly only AntiDRM book for children) has just been re-released, I have even read it to Gwen, in a new version: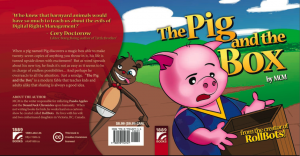 The new version has only minor changes including a new cover and is designed to make the book a little more mass consumable. For example, "He nearly peed his pants" becomes "He nearly danced like an orang-utan".  All new words have been 6-year-old approved as being stupidly funny. ( I hope I still have a copy for the original version on my last laptop.  If i do I will post a link to it)
The Pig and the Box is available at 1889 Books, in DRM-free PDF format.  (Note the work is under a CC-BY-SA License which means if fans translate or digitize them they can share them)

Physical copies are avalible at Amazon or Powell's I am ordering a few for the upcoming Seattle FTC hearing on DRM. The first person to ask me for a copy at the Seattle event can have one for free.