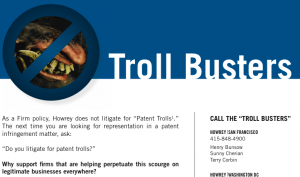 This is a great IP firm ad. They even provide a a decent although limited definition of a Patent Troll:
"Patent Troll" is an individual or company whose sole business is acquiring patents for the purpose of forcing legitimate companies to take licenses or otherwise pay money – usually through threat of litigation. "Troll Busters" is the service mark of Howrey LLP.
Almost makes me want to work for a firm.  I wish more companies and nonprofits would set up ethical standards like this to live by.  It amazes me how many firms feed both sides of the conflict turning the law into an arms races where public interest is under funded.  In the long term mission statement and ethical pledges can go a long way towards building a business reputation and standing in the community.  Maybe we need a troll slaying crest that fellow troll vanquishers can rally around, a good troll slaying seal of approval.
Full Ad: Howrey Troll Busters ad (PDF)